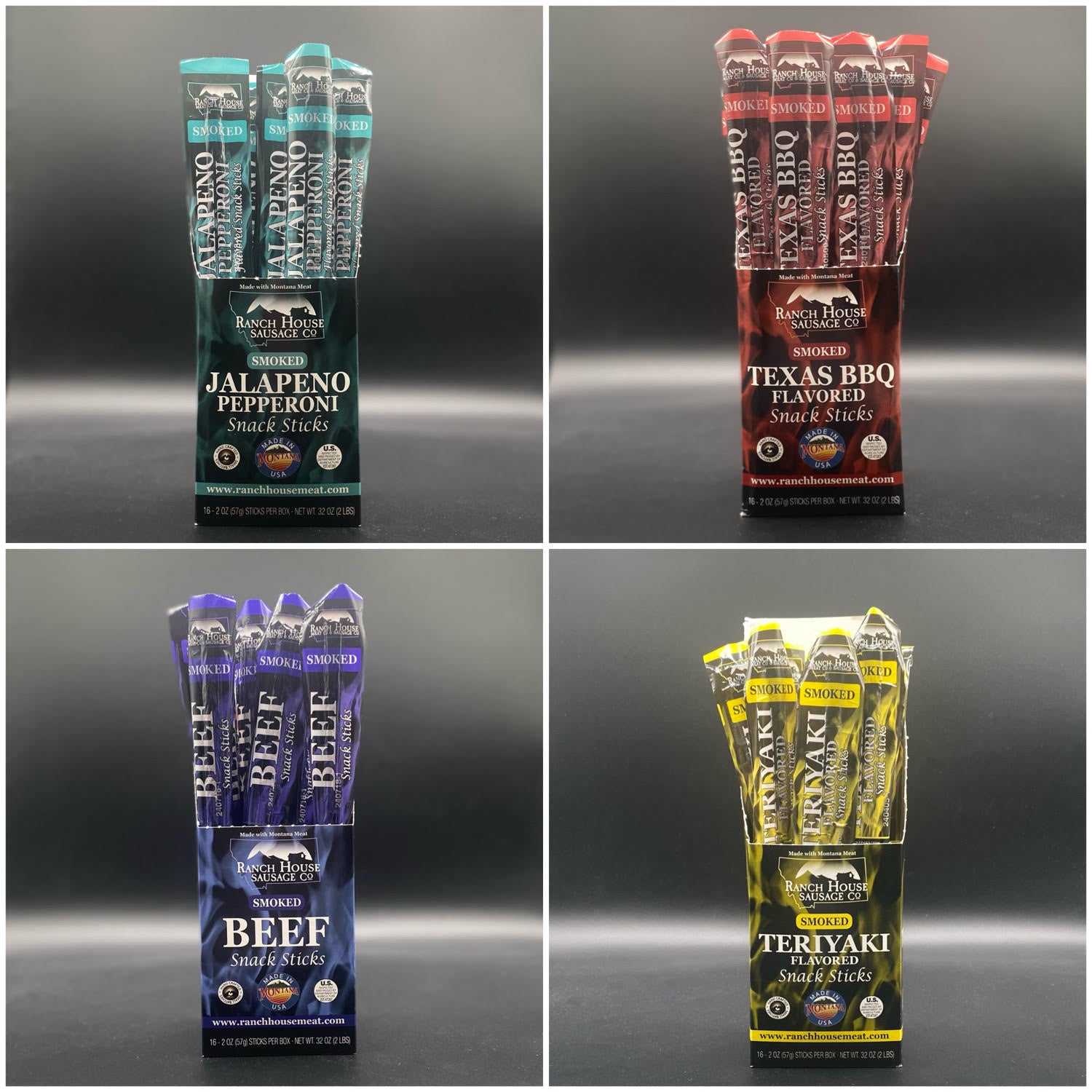 Single Snack Sticks
Perfect for lunchboxes and on-the-go snacks! Not to mention... our All Beef and Texas BBQ snack sticks are nationally award-winning!
Each flavor is sold 8 sticks per flavor.
Flavors & Ingredients:
Jalapeño Pepperoni: Beef, pork, salt, corn syrup solids, spices, monosodium glutamate, garlic powder, water, jalapeño, encapsulated citric acid, sodium phosphate, sodium nitrite, dextrose
Texas BBQ: Beef, pork, sugar, salt, dehydrated onion, dehydrated garlic, spices, molasses powder (molasses and maltodextrin from corn), monosodium glutamate, paprika, hickory smoke flavor (maltodextrin, smoke flavor, silicon dioxide), citric acid, water, salt, spices, dextrose corn syrup solids, monosodium glutamate, dehydrated garlic, paprika, corn starch, sodium erythorbate, natural spice extractives, fully hydrogenated vegetable oils, sodium phosphate, salt, sodium nitrite, dextrose.
All Beef: beef, corn syrup solids, salt, dextrose, spice, water, citric acid, fully hydrogenated vegetable oils, sodium phosphate, salt, sodium nitrite, dextrose
Teriyaki: Beef, pork, salt, corn syrup solids, soy sauce powder (soy sauce - wheat, soybeans, salt, maltodextrin), sugar, hydrolyzed corn protein, dextrose, monosodium glutamate, onion powder, dehydrated garlic, soybean oil, spices, sodium erythorbate, water, citric acid, sodium phosphate, sodium nitrite, dextrose
Allergy information: contains wheat and soy